Travel to Israel
Duane Goehner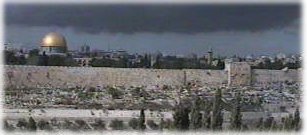 A dark cloud hangs over Jerusalem
There are so many contrasts in Israel.
A mix of cultures: Jewish, Arab, Christian.
Devastated yet cherished throughout the centuries.
Beautiful beaches, rich fields and orchards, parched deserts.
Indeed, there is something so attractive...so mystical about the place.

A view across the Mediterranean Sea near Haifa
Views of the Land

Christ's Birth
Christ's Life
Christ's Death and Resurrection
Jerusalem
Masada and Newer Jerusalem
Haifa Area
Golan Heights and Friends


Me standing on a hill above Jerusalem
Taken for my mom, who always says, "There are
never any pictures of you in the photos."
---
Please forgive the sometimes grainy photos; they were made with my video camera, not with film, so their quality is less than perfect.
I have come to prefer videotaping over still frames for the preservation of both the sights and sounds of my travel experiences.